Could you tell us a bit about yourself, what you sell at
Organic Wine Club
and how you got started?
Organic Wine Club is a specialist organic wine retailer. We focus on health conscious natural wines that are naturally low in sulphites, have no added sugars and are organic, biodynamic and vegan friendly.
We are two entrepreneurs (Dimitri and Alex) who decided to combine our expertise in digital marketing, wine, hospitality and customer service to provide a better product and a personalised service to those who share our values and prefer to drink better wines.
We started selling online and from our showroom back in June 2016 and business has been growing organically ever since. We are still just two of us, but we are proud of having achieved 5 digit customer base and 6 digit turnover in our first full year of trading.
What did it take to get your first products in stock? Has that changed since you started?
We started with much broader range of wines, styles and countries. Since then we have perfected our selection process, making it stricter and more robust. We now have our bestselling range of natural wines without added sulphites, but also some wines made by passionate artisans in a tiny quantity from indigenous grape varieties and using local expertise.
How did you get your first sale?
We had just received our first stock in a storage room and were unpacking boxes when our first sale came in online. It was from a customer from Isle of Man who was also quite happy to pay double the shipping charge for us to send a case of mixed wines made without added sulphites as they do have allergies to them. It was a fantastic sign for us that we were going to be OK.
What obstacles and challenges have you overcome along the way?
It has been, and still is, a massive learning curve for us: we now know more about what works for our business in terms of advertising, what kind of content people are looking for and also a long list of frequently asked questions that is now on our website. We are a retailer with a wine club format, so that was confusing people quite a lot - we are a retailer as such, but people also have an option to just subscribe without obligations.
Financial issues, such as cash flow, have been something out of this world as neither of us had any direct experience with that in the past. We have finished our first full year with a positive gross profit, so now it is time to optimise it further.
What influenced your deci
sion to use Shopify?
We wanted a solution that would give us a seamless way to manage online and brick-and-mortar sales and this is being done perfectly. On top of that, its checkout flow is great, much better than many others that we've tested. Finally, it is SEO optimised from the get-go and we are able to tweak things quickly and easily.

What was the process like to get started? Is there anything you wish you had known then that you know now?
It was busy and messy. We'd say, simplify, simplify and again simplify. Otherwise it will become too complicated not only for you, but also for your customers. Another important factor to remember that in your first weeks or months or even after a year you won't be able to do everything that you want - there is not enough time in a given day and you will burn yourself out. So just prioritise and keep a list of things or projects that can wait until you have time to sit down and breathe. Have 'me' time to enjoy your guilty pleasures, spend time with people you love and enjoy your hobbies.
What Shopify apps do you currently use? Which apps are most important to your business?
We use ReCharge for subscriptions and LoyaltyLion for rewards programme. They are costly but work better than what we've seen on the market. Support from LoyaltyLion team was second to none, so we do recommend!
Similarly, we have exchanged many emails with a team at EasyMobile, which provides you with a simple app, this has been a wonderful experience and we have our own iOS app through them.
We also use YotPo for reviews and Zotabox for email capture, promotions and announcements. We have tried many apps for email capture and found many of them unreliable. After more than a year working with Zotabox, we are happy to report on perfect service.
What strategies have you used to attract more leads and grow Organic Wine Club?
We keep on acquiring customers at a steady pace through search, but are also working hard on retention and offering existing customers more and more reasons to stay with us. We provide an honest service from the get-go and that's the simplicity of it.
What are some of the most effective ways that you interact with your customers?
When people say that email marketing is dead, don't believe them! We made a few mistakes in the beginning with it, but are currently working to improve it. We already see tremendous results with automation, segmentation and targeted offers.

Are there any metrics you can share in terms of order volume, monthly sales, increased revenue, growth %, etc.?
Since we've started to optimise our email marketing, we have managed to grow repeat purchases from under 20% to 35%. That has happened in the last 9 months.
We have also managed to decrease our Cost Per Acquisition by 24%, so we are getting new sales a bit cheaper.
Finally, we took a strict look at our expenses and bottom line to reduce our costs for shipping by at least 10%. It may sound like not a lot, but it will contribute to your net profit.
To what do you attribute those positive metrics?
It is down to day to day work. As they say, it is a marathon and not a sprint. Optimisation takes time, similarly as with negotiation - you need to show your partners that you are reliable and that you are growing. They will be happy to offer a better deal then.
What are you working towards now? Are there any blogs or other resources that have been helpful for you?
We are working on festive calendar and a set of initiatives that will further strengthen our position on the market. We are keeping a close eye on Shopify developments and also what happens with Google algorithm and AdWords. We also read industry specific blogs and best practices employed by other Shopify store owners.
Based on your own success, what advice would you share with others who might be just starting out with Shopify (or with eCommerce in general)?
We've mentioned these earlier but here are a few more:
Prioritise and employ 'can do' attitude to what's important right here and right now.

Accept that you can't do everything that you need to and have enough 'me' time to relax, switch off and spend time with your family and friends.

Stick to your and your business values and always try to simplify your processes.
Where can we learn more?
You can learn more about our wines (and a ton more) at our website: www.organicwineclub.co.uk
We're also on Facebook, Twitter, Instagram and YouTube.
~ Dimitri and Alex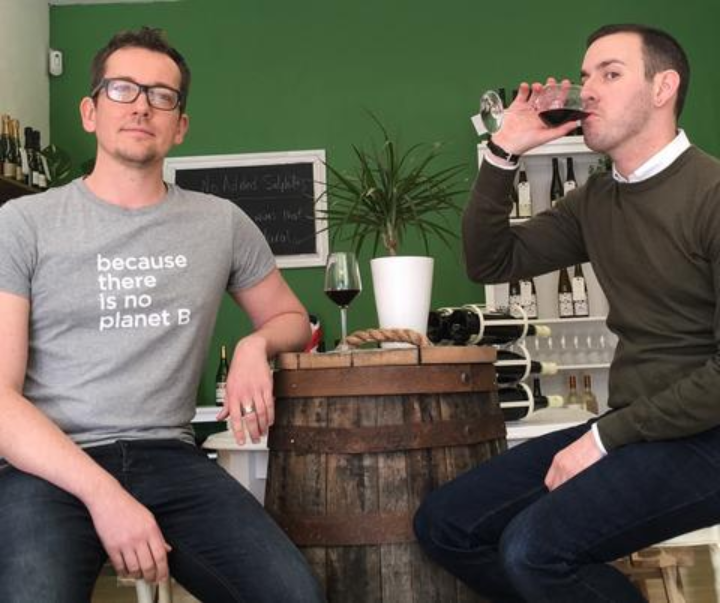 Organic Wine Club Team